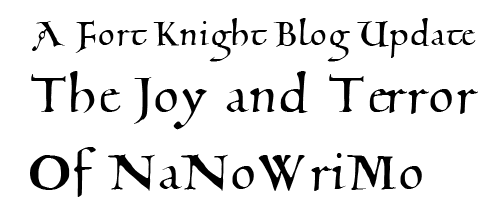 Hi all,
As you may notice, this blogging thing is a new fixture on Fort Knight's Tale. It would seem I decided that writing poetry and short stories on a weekly basis, while keeping up with work commitments and the like, was taking it far too easy. So on that note, commence the blogging!
Some of you may already know about NaNoWriMo, but for those who don't, it's a yearly month-long writing challenge, to write an entire 50,000 word plus novel in just 30 days. That's the acronym – National Novel Writing Month.
And that month is a month of wonder and terror, of untold joys and uncountable horrors as you make the slow, painful but ultimately worthwhile journey to 50k milestone.
The first week is a pleasure to behold – you prepared for the first week, you knew what was coming and you made yourself ready for it. Maybe you got a few days off of work, or perhaps just started writing plot details and such for the first few thousands word – whatever the method, the first few days sail by.
Then comes the second week, and you question your foolish nature for starting such an impossible challenge, perhaps you question yourself as a writer as you see your wordcount slip below the daily minimum to completion. I've seen more people bow out of the race to 50k in the second week than I thought possible.
The third and fourth weeks are an uphill march in a beautiful countryside, with weights on your feet put food dangled just a few steps further up the hill. It is both punishment and reward incarnate, but in the second half of the race you really see the writer you are. The people of the second half know they didn't let down their guard in the first week, and they didn't succumb to the brutality of the second, no: the second halfers know where they're going. The gang is smaller, sanity is stretched to breaking, and the coffee supply is running dangerously low, but every new word is it's own reward. And then you hit the rhythm, and step by step, you unknowingly pass that terrifyingly high 50,000.
So, on this, my fifth adventure in the NaNoWriMo mountains, do I have any tips for newcomers to the journey? Can I impart any advice for those who might otherwise fall to the chaos and confusion of week 2? Maybe not, but I can share my personal secrets to success.
1 – Music. I learnt this myself in my first year, and it is, in my humble opinion, vital to survival in the race to 50k. Pick a good album or ten, enough to tide you over for many an hour without getting repetitive, and set the music free. My personal music of choice is Two Steps From Hell, an instrumental group mostly known for movie stuff – they have released a commercial album though, and I'd highly recommend it.
2 – Never go Alone – In five years facing the 50k slopes, I've stumbled from the mountain a single time. That year, my NaNo-partner left the writing scene, and I was left to take every step solo. I slipped in the second week, just after breaching 20,000 words, and couldn't face the climb up again. Sharing the trials, tribulations and ultimate success with someone else makes the entire job infinitely easier. A once impossible mountain shrinks in size under the gaze of more than one pair of eyes. With a partner, or a group, you can have word wars, using friendly competitiveness to burn through those 1,300 a day in no time. And all importantly, when one of slips, in the second week or any other, there's always somewhere nearby to catch you. If you are facing the mountain of NaNoWriMo alone, I beg you find a writing partner, heck, find ten. If none of your friends or family can be coerced into the hard climb, join the NaNo forums and find a digital partner. Just because you're both in different countries, doesn't mean you can't climb the same mountain these days.
3 – Prepare. This will differ hugely between writers and writing styles, but if you unsure of what to do with the little time left before NaNo begins, get out a pen and start writing plot details, character notes and anything that springs to mind. None of it can count towards your 50,000, but that doesn't matter. Anything you prepare in advance is something you don't need to spend time preparing during the month. Trust me, the madness of a NaNo November will eat at your free time. And, if you'll trust me again, every damn second will be worth it tenfold and more on day 30.
Thanks all. I'll try and update a few times during NaNoWriMo, and let me know what you think of this whole blogging malarkey.
-J.L. Oakman
https://www.fortknightstale.com/wp-content/uploads/2013/10/012.png
210
500
admin
http://www.fortknightstale.com/wp-content/uploads/2016/02/logo.png
admin
2013-10-25 17:36:42
2022-05-07 17:20:48
The Joy and Terror of NaNoWriMo