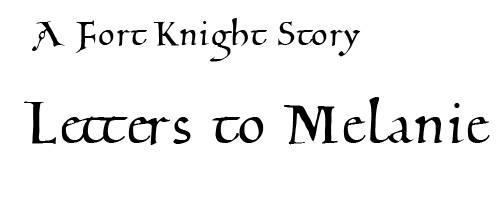 27th March 1877
Dear Melanie,
Nothing has changed. I have walked many miles now, but still the horizon flickers with it's wanton promises, it's distance never shortened. I still have water, and food, but not for much longer. Unless the lies of the horizon forgive me soon, this place shall be my grave.
I look behind me, and see my trail of footsteps unwavering, but I fear it is another illusion. If so, how can I know the progress I have made? Have I moved at all?
I must leave now, my Melanie, or else I shall never move again.
Paul
4th April 1877
Dear Melanie,
I still do not understand the troubles that have befallen me, but I fear they have not improved. I have travelled another week now, and while my pack is still heavy with supplies, I know how soon that weight shall pass and become my own.
I apologise, perhaps these are not the words you wish to read, but they are the only ones I have left.
Paul.
1st January 1877
Dear Paul.
It is always a pleasure to have you at our Christmas parties, but please remember to remain fully clothed for the next year. Uncle Albert is still in shock!
Melanie
6th April 1877
Dear Melanie,
While I rested today, I found something I thought long lost at the bottom of my pack. The letters you sent me last year…I feel it is somehow an invasion of the past to read them once again, but the nights are cold and the storms fierce, and I have nought else to fight away the smaller hours of the night.
If I should ever get the opportunity to speak to you again, I hope you will think no less of me for reading them now.
Paul.
28th December, 1876
Dear Paul,
I don't know how to put this into words.
I'm sorry. How I spoke in my last letter was unforgivable; though I'm sure you understand where such emotions came from. I look forward to your next letter, and let us not taint our relationship with such things.
Will I see you for the new years party?
Melanie
8th April 1877
My Dear Melanie,
I am filled with regret as I read your letters. I wish I had not been so inebriated as to tell you my feelings at the party…our last party. If you should ever read this, I forgive you, and I am of course sorry in kind.
But I have something marvellous to tell you now! While the horizon remains unchanged, and the landscape behind me the same, the sands I walk in now have changed! This is such promising news, I now know I am making progress towards you, towards life! I am sure there can be little left of my ordeal, I will see you soon my dear.
Paul
26th December, 1876
Paul.
How dare you!? I understand the troubles you face these days, but to storm in, on Christmas dinner of all times, is simply unacceptable! I invited you weeks ago, it was you who forced my hand, not the other way around!
Eddard is furious. You know what he's like. For your own safety, and for our continued correspondence, stay away from Broadshy manor!
Melanie Parks.
9th April 1877
Dear Melanie,
It pains me to read of the upset I caused you, though it pains me more to know that I may never look into your eyes and apologise as I should. Would that I could run across this damned desert, but my feet are heavy and my supplies limited, I will walk further tonight, I can rest when I am dead.
Paul.
11th April 1877
Dear Melanie,
In one of your letters I have found a picture of us, from so many years ago. Before ruined Christmases' and before Melanie Parks. If only I could send these letters to you, I do so wonder how you would respond.
Paul.
24th December 1876
Deal Paul,
It is such a shame I shan't be seeing you on this most wonderful of holidays, but I do understand your reasons, and know that I cannot, do not, blame you.
I found a picture from a few years ago…I cannot stand to have it now, I am sure you will find a proper home for it.
Melanie.
13th April 1877
Dear Melanie,
My supplies grow lower still, but I have enough to last the month, if I am still more careful with them. I have only you to thank for that, and my mind assures me I shall be returning to you soon.
Paul.
10th December 1876
Dear Paul,
From your letters, and our previous encounters, I fear you shall not be convinced to stray from your foolish path. I hope you have taken my advice in any case, though I begin to fear that is beyond you.
I fear I must still see you this Saturday morn, but trust that I shall not write you again until I feel it apt, our correspondence becomes too common.
Kind regards, and nothing more,
Melanie
13th April 1877
Dear Melanie,
I have only a few letters left from you to read, and still my horizon remains unbroken by anything but sand and stone. I look behind me and I see the infinite footsteps that have led me to this point, all I can pray is that once I return to civilisation I can afford to send you these letters, that you might read and understand my convictions, and my eventual success.
I suppose before that, though, I must defeat this desert. And so I must walk again, I do not sleep much these nights.
Paul.
9th December 1876
Dear Paul,
I beg of you, if you must take these foolish steps towards your own demise, you prepare yourself accordingly. As I have asked before and no doubt must ask again, take with you supplies to last three, mayhap four adventures, and yet still take only one. Then my heart can be assured of your safety in those perilous lands.
Melanie
18th April 1877
Dear Melanie,
My pack grows light, and my head wearies. I have exhausted my supplies of all but bread and water, and I must drink as little as possible each day. I have not slept for four days, only walking forward, towards where I know you sit, even now, awaiting my letters. I must rest tonight, for my mind falters with every thought.
Paul.
8th December 1876
Dear Paul,
Why do you persist so? This course you plan on taking is both ridiculous and childish. A man such as yourself, at least, the man I thought you were, should be dealing with the situation we have placed ourselves in like an adult.
Oh Paul, why did you insist on writing me at all? Life had become simple once again, and I had no fears for the safety of your body, and perhaps in that most treacherous of lands, your mind as well.
Melanie
18th April 1877
Dear Melanie,
I have but one letter from you left. I fear I threw so many out when our paths diverged, and the rest are back in England, so very close to you. The one letter remaining still bears your seal; it is unbroken. Tis the letter you gave me the day before…
Tis your goodbye, I fear. With nothing left to read, and my mind at odds already, the dangers in opening it may be greater still than any this desert offers me. But still, while my mind is my own, I must know the words you offered me then.
Paul.
22h September 1876
Dear Paul,
I struggle to write this letter. Every word of every line cries out that what I do is wrong, though in my heart I know I have no choice.
We have not been what we were for so long, and by the time you read these words, I expect I will be yours in no way at all. I shall be Melanie Parks, and you shall remain Paul Canfield. I cannot be who you wish me to be, and you cannot force your life upon my own.
We cannot speak again. You must live your life as you choose; and we all know what that means. You shall return to Wretchet and Sons, and you shall work there until you mind and body are no more, for that is how it always must be. As I am sure you are well aware, the drunken ramblings of adventure you have been bringing up at every social occasion must remain just a fancy. If you wish for any of your family to speak to you again, regain your money and your mind, and leave the good life to the interesting, for it was never meant for us.
I am sorry, that this life does not give you what you wanted, or even what is gives me, but you must learn to live the life you are given, and wish for no more.
And remember, I am no longer yours; cease your eternal quest to keep me, you have already failed.
Melanie Canfield.
23rd April 1877
Dear Melanie,
I have now read the first words you wrote to me after our lives drifted so far apart. I am unsure of what else to write to you; I do not blame you for your anger or your upset, and cannot say that your words are false. I understand, and accept, your decisions, much as I wish I had changed them when I had the opportunity. But perhaps that is the reason it is best I left when I did, for I now see only too clearly how often I tried to alter your very being.
I have not slept much these last few days, and my body rebels. The little I bread I have left is old and hard, and my water no longer clears the burning of my throat.
Through the heat of the desert and my many sleepless nights, I fear I have started seeing apparitions. Small flickers in the corner of my eye, across the horizon. What this means I do not know.
Paul.
25th April 1877
Dear Melanie,
I am lost. Those words no longer feel as hollow as they did. I am no longer simply lost in a seemingly endless desert, but my mind's wandering has caused it to depart my head, and I have yet to find it. I pray when I can, but most of my time now is spent walking towards you, or writing to you.
The flickers no longer hide in the corner of my eye; they dance merrily across my vision. It takes upsetting concentration to continue my path in a straight line.
Paul.
26th April 1877
Dear Melanie,
I do not understand what my eyes tell me anymore. I looked behind myself, to check my tracks remain straight, and I could have sworn I saw you following me, so very far behind. You faded into the sand after a blink of my eye, but surely my mind is not so starved that I would see you were not here, so close to me?
I cannot walk back, I must keep my pace. I beg you, dear Melanie, if you are there, so close to me, hurry you step and quicken your pace, so that you may join me on my quest for civilisation.
Paul.
27th April 1877
Dear Melanie,
I did not mistake my vision this time! I see you, following my footsteps at the very edge of the horizon. You do not face as I gaze at you, so you cannot be a trick of a fragile mind. I will bury my first letter for you here in the sand, and pray that you open it. Godspeed Melanie, that I may hear your voice again.
Paul.
28th April 1877
Dear Melanie,
I do not know what witchcraft this is, but I thank it with all my heart. I found a small set of footsteps in the sand that soon faded to the same blankness of the desert. Buried in a shallow grave was a letter, bearing your seal and your scent. However you have achieved this feat is beyond me, but thank you.
Paul.
27h April 1877
Dear Paul,
I do not know what to write. My hand trembles, and my ink dries before I am ready to write. To think I had a hand in putting you in this awful place…but no, do not dwell on such things. Leave this place and return to England as soon as possible.
Melanie.
28th April 1877
Dear Melanie,
To know that I am the cause of your continued grief or misgivings is a pain to my heart, but at the same time only drives my strides ever forward. Now that know you are behind me, and able to write me back as I continue my quest back to England for you, I shall bury another letter in the sand, would that you be able to read my words before I return to you.
Paul.
28th April 1877
Dear Paul,
You are right, these are not the words I ever expected to hear from you. Do you remember when we used to visit the castle on the hill? You only ever spoke of the joys of your work and your life, but ever since your talk of adventure and this damnable desert, your mood has taken a dour tone that so many that loved you could not comprehend.
Things in England are difficult Paul, hurry back.
Melanie.
29th April 1877
Dear Melanie,
I thank you for continuing your impossible correspondence; it eases my nights and lengthens my footsteps. I cannot remember when I last slept, and with but a days worth of food left, I shall soon have to forgo eating in my quest to return to you.
There is a retreat near the edge of the desert; I remember it from my arrival here. If I can reach there soon, all shall be right. My horizon is unchanged, but I can feel you moving closer to me. Soon I shall be home, my Melanie.
Paul.
29th April 1877
Dear Paul,
Do not dwell on the lives we lived in the past, for they are over, and once those who lived them change, so to do the memories. Instead, focus on your task at hand, leaving this awful place and returning to England.
Melanie
29th April 1877
Dear Melanie,
My mind wanders, to a fault now. I can barely focus, my eyes blur and the vision around me shifts and changes; phantasmagoria of lights and sound burn my unrested mind. You seem too far behind me, and yet I know I must move forward to be with you. Please hurry your step, I can bare no more of your shade's slow pace behind me; every drop of life I have left I burn to find you.
I have used all my food and water. I will abandon my pack, take anything that may slow me down and cast it away. I bury all my letters to you now, please, read them and know my words.
Do not fear, my Melanie, I keep my writing tools. You shall still read my words as I finally leave this terrible place.
Paul.
30th April 1877
Dear Paul,
I have read your letters. You must be near the end of this harsh land now, hasten yourself that you may reach the retreat and then return. My pace does not quicken, yet you are ever closer to me. You must hurry!
Melanie.
30th April 1877
Dear Melanie,
My horizon remains the same. I look at my flesh and I see a withered man I do not recognise. I am lost, Melanie. So lost.
Paul.
30th April 1877
Dear Paul,
Do not give in, Paul. I am so close to you now, you must step faster! I see you now; do not fool yourself, you are the man and friend I knew so long ago, and still the man you were mere months ago. We are so close, do not lose hope now, you cannot.
Melanie.
1st May 1877
Dear Melanie,
I have lost the fight, my dear Melanie. Every step I took, I took for you. I saw you in my vision, so close to me, and I saw you truly, perhaps for the first time. You are not my Melanie. You are a shade, a dream of the woman I write to.
I looked for my footsteps, but I see none. The harsh storms and terrible winds have driven my steps astray. I may be mere metres from where I stood a month ago. It's strange though, Melanie, I think I was more lost then than I am now. Perhaps that is part of my madness, but I do not think the man I was was happy, whereas here, so close to you, yet further than I have ever been, I am.
Are you there, my dear? I am tired now. My hand wearies just by writing this letter. I cannot stand again. I will sleep now, I think, I will sleep until the storm is over.
Do not wake me, shade, I need the rest.
Paul.